We have seen the depiction of Moses as a goat is connected with the Masons and the worshipers of Kali – the Cult of Death.
Now we will talk about how this ties into the music industry. 
This industry is very proficient in using "shaguni-type" contracts, such as banking and lending – which get people into debt.  It is also very interested in utilizing women (especially to lead others astray), and they constantly promote dice games, gambling, killing, and anything to do with death.  They are not the honest salesmen of confusion and death, presenting the industry exactly as it is.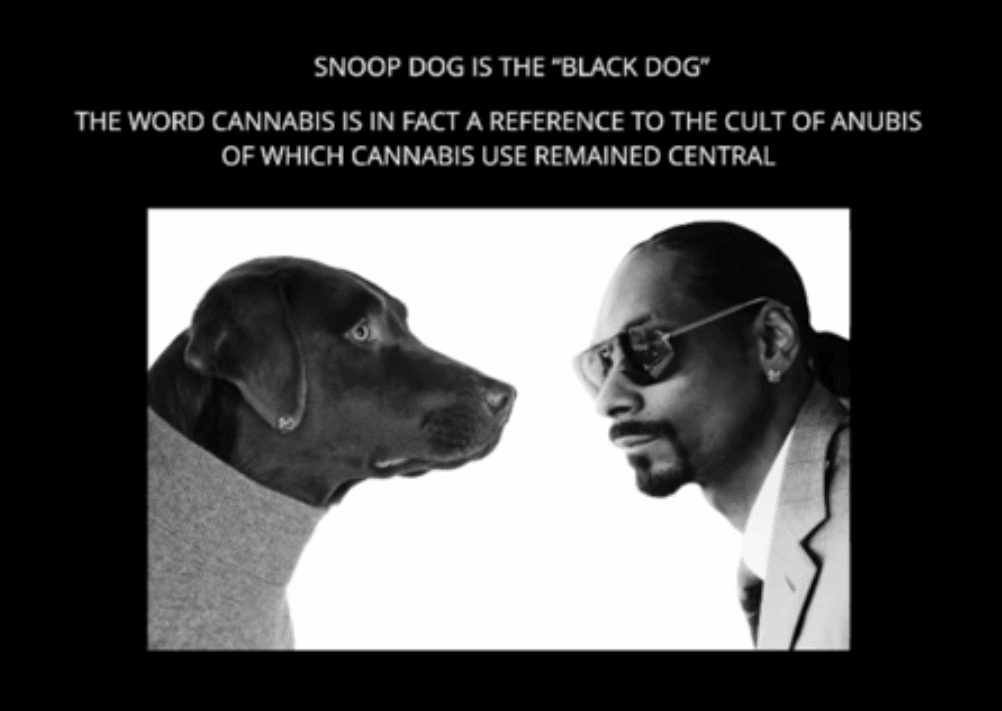 They are more like Abraham, offering up something very beautiful – his wife.  Compare that with the Shaguni using beautiful Russian women as if they're saying "hey, here's something beautiful – come and get it."  However, that beautiful thing comes at a cost…  it could cost you your entire nation – and we know how the Shaguni handled costs.
In this picture, you see a shaguni who's a crypto-Jew.  By the way, the history of the crypto-Jews includes Christopher Columbus.  They're now known about, but historically they were "crypto" because they had to live in societies of other traditions like Catholicism and pretend that they were Catholics, when they were, in fact, worshipers of Kali in the distorted state.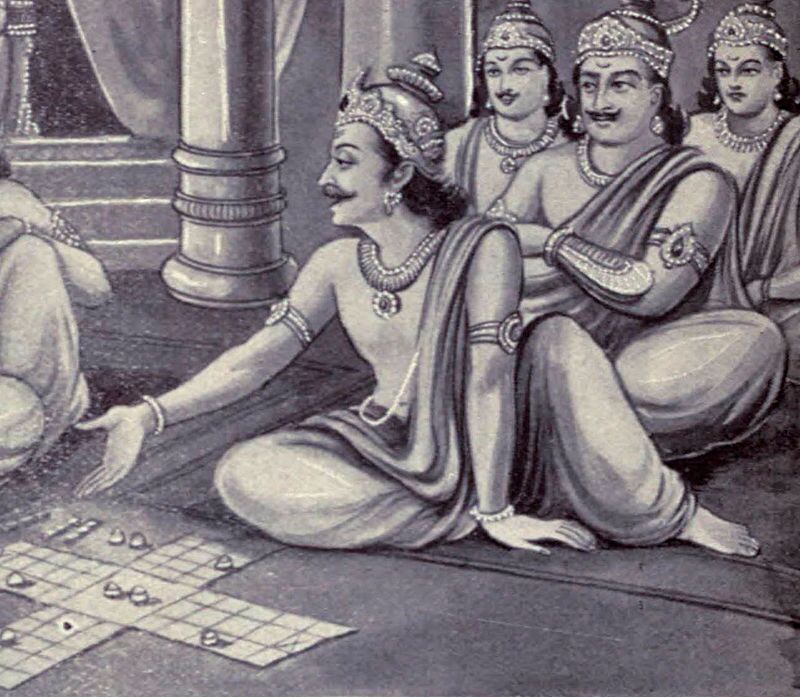 This shaguni is in a dice game – the picture looks ancient, but maybe it's not so ancient.  This is not 50,000 years ago, or some other crazy, incredible number of years ago.  This is about gambling and cheating.  Look at the guys behind him – it looks like if somebody doesn't pay, there's going to be trouble… so the picture tells on itself. 
According to the text this picture was taken from, Shaguni got one of the Rajas to play in this gambling game, and this particular Raja lost his entire kingdom in the match.  It was discovered that Shaguni also cheated, but that didn't matter because the people who were witnessing this game held the king accountable. 
This shows how the shaguni type will play on your belief system or spirituality.
Shaguni made the king promise him that if he lost, he would pay Shaguni his entire kingdom.  What's more, the king's own people witnessed the promise, so if the king went against it, he would lose his own people… However, the king refused to give up his whole kingdom to Shaguni and instead accused him of cheating – which Shaguni had in fact done. 
So, Shaguni went to other kings and told them that the king owed him his entire kingdom by right (because the king had gambled with him, lost, but didn't pay up).  He told them that if they would help him get his payment, he would give them a certain portion of the kingdom.
Shaguni was always like this… the kind of person you read about in works such as Robert Greene's The 48 Laws of Power and The Art of Seduction.  Shaguni practiced those kinds of techniques.  He is the kind of guy who would get four rats infested with Ebola, dump them into a walled village, and come back two months later to find everybody dead – a different kind of warfare back in those days.
Now, we return to the music industry – where things like gambling and killing are often highlighted in its imagery. 
Think about the term "rap" – where does that come from?  Besides the wr spelling, "wrap," which means "to tie something up," it comes from the term "raptor."  This is why many melanin-dominant people are used to promote the rap industry because in the Kemetian culture it was known that if a person died without strong spiritual development, they became a raptor.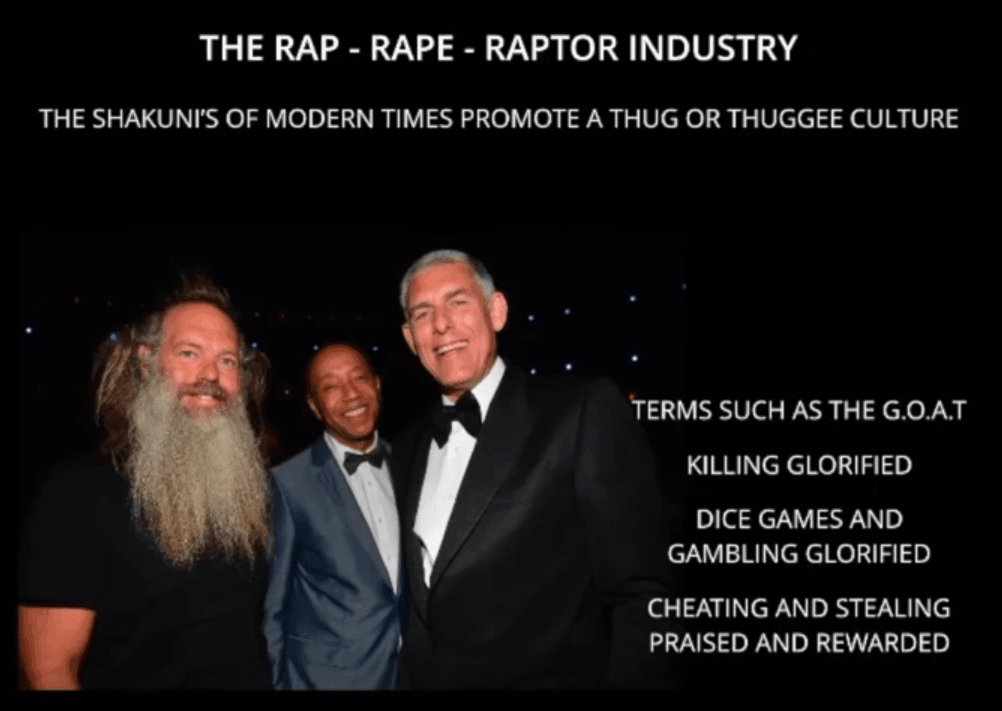 Individuals in the industry such as Lyor Cohen (whose name means "a lying priest") have been able to tap into the level of knowledge that, for example, traces rap to the Kemetians and realize the power that lies in using language in this way. 
The term "naga" means "those who originally spoke" – because at a certain point in history nobody had an actual, articulated language, and the first ones that had it were the Nagas or the niggas. 
Because of their experience with the linguistic system, rappers are now capable of pushing out hella rhymes, like the Black thought on Funk Flex, which is extensive.  There are some rappers, like Fred the Godson, who can rap backward.  When you try to comprehend what he's saying, it seems to turn your brain in another direction to be able to read deeper metaphors in the lyrics.
This art of phonetics is really a talent, which is why we give so much credibility to singers and rappers.  Unfortunately, we also find in this field terms such as "G.O.A.T." – "greatest of all time" – which is a Masonic term, and things like killing and sinister dice games in the street are glorified. 
Who created this business?  Who created the ghettos and the hoods, where people are poor and don't have any money?  Where people are not being treated equally?  Where there are no more gods and no more healers willing to heal for nothing, or for whatever someone can give?  How has that system been disposed of? 
We have just disclosed the answers to those questions today.
The whole shaguni system is a rigged deck.  In the picture, Shaguni is rolling dice made from the bones of his father… that's the "by-any-means-necessary" kind of mentality that you see in setups like Las Vegas – where you can find everything that Shaguni believes in… leading men astray with women, cheating, gambling tables, fighting, warfare – all that is centered there.
We recognize the shaguni system… the real question is – Do we prefer it?  Or do we prefer a world without it?  A question: Is all this struggle necessary for us to get to the next stage?  It is very clear that our ancestors intended the struggle for us so we could keep growing, and eventually be able to connect with them. 
Do your own research – but the topic we've been talking about is not so foreign… you can find it in other places.  Today the topic is the shaguni, but tomorrow it could be the Knights Templar, or it could be the Jesuits, maybe fake Brahmins or the false "ascended masters" in the New Age movement. 
The power is to realize those factions are all one club.
They keep trying to bring up all these characters that we've never seen – they have never done real alms, and they never show up to help people.  Yet they make promises and try to claim geometries and templates… It is all going under the microscope – I hope those who practice these arts understand what they're practicing, and don't end up getting thrown under the bus by such people.
If you learned something new today, maybe you will tell the people who believed in what you were saying before, that you just got some new information.  Sharing new information, even if it means correcting our mistakes, is an important thing for us to do together as a conscious community.