What is the Envision Festival?
Envision is a four-day festival, held from Feb. 28th to Mar. 4th this year, located between the Pacific Ocean and the beautiful jungle of Costa Rica. Its mission is to celebrate and foster the collective awakening of human potential and unity consciousness. As such, Envision is a venue for the harmonious interplay of diverse cultures and the rejuvenation of a sense of humanity's fundamental community.
The goal of Envision is to galvanize the conscious community by engaging in visual art, performing arts such as music and dance, spirituality, yoga, and education. Participants will also brainstorm and enact therapeutic strategies based on humanity's fundamental connection with nature.
These goals are enacted through Envision's 8 pillars: movement, spirituality, music, radical acceptance, community, permaculture, health, and art.
Movement cultivates freedom through physical expression and exploration of the body as the foundation for humanity's highest potential.
Spirituality deepens the individual's connection to others, to Source, and to Nature.
Music invigorates the senses through vibration.
Radical acceptance asks that all participants come as they are and leave as they want to be and that all life paths and experiences be respected as they make up the present now moment.
The community at Envision, participants are brought together by their similarities and transformed by their differences.
The entire design of Envision is executed with the principles of permaculture in mind and as eco-consciously as possible.
The pillar of health encourages self-care through mindful practices around food, activity, medicine, and other areas of everyday living.
Lastly, the arts are explored as an immersive experience that blurs the boundaries between the artwork and live experience.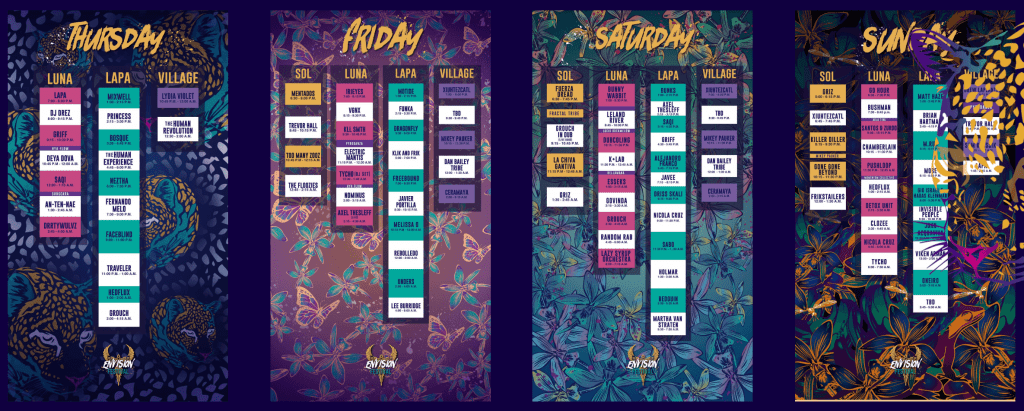 The Secret Energy Tribe will be connecting and surfing the vibes at Envision, and sharing live footage via social media! See the entire Envision lineup by clicking here.
Sevan Bomar, the founder, and lead developer, of Secret Energy, will be making a guest speech at the festival as well.
We are planning on shining bright by showing our presence in numbers. The more the merrier, as we can't wait to hug and love and share this "modern-day Woodstock," one of a kind experience with our peeps. The Secret Energy Tribe will also be gathering at Envision in an honoring for the whole world.
Here is a video about Envision 2018, featuring Tribe members G-Sun, Vintij, Sage, and Max:
The Mindful App Campaign
And last but not least, Secret Energy will be presenting The Mindful App Campaign to the world at Envision. The Mindful App is a social network designed especially for the conscious community and a spiritual ecosystem that emphasizes interaction and accountability. The premier online launch of the app will be live on social media on February 22, 2019, at 4:00 p.m. CST.
You can find out more about the Mindful App and several other Secret Energy fundraising initiatives here:
Engagements
Be sure to check out social media for live footage of Tribe at Envision!
Do you have any info about Envision that you would like to share with the Tribe? If so, copy any links of images and videos you may have in the comments so we can look over and share what you have found.
Also, be sure to share this post with your friends and colleagues via social media and get them in the Gno.
Would you like to know something specific about Envision? Let us know in the comments and someone deep-diving into this topic will leave a response.
Do you know about any other major metaphysical or consciousness-raising events that would be good venues for Tribe in the future? If so, let us know about it in the comments.
Headed to Envision? Watch this video to be sure you don't make a few common mistakes that can slow down your
trip. Wholeness!